"Be happy, and a reason will come along"
-Robert Brault
Hello my lovelies!
I'm back with another empties post! Since I missed July's empties post, I'm combining the past two months for a mega empties party. Grab a coffee and a snack, it's going to be a good one.
Empties:
Garnier SkinActive Soothing Cleansing Milk –
I really enjoyed using this cleanser and my skin always felt soft after washing my face. It's a great price, fantastic for sensitive skin, and does the job pretty well. Despite being a cleansing milk, my skin always felt completely clean and my pores were never clogged. If you have dry, irritated and sensitive skin, I would absolutely give this cleanser a try.
Would I Repurchase: Yes!
---

Burt's Bees Brightening Skin Perfecting Serum –
I've talked about this serum in a previous Digs and Duds post, and I have actually changed my mind slightly. It still isn't the greatest serum that I've encountered, but I do genuinely believe that in combination with my Good Genes exfoliant, I've made some headway on my acne scarring, especially now that my course of Accutane has finished.
Would I Repurchase: The Jury is still out on this one!
---
Laneige Lip Sleeping Mask –
I originally got this lip mask as a trial size at Sephora, and I've been hooked ever since. The sample size lasted for ages and kept my super dry lips moisturized throughout the night and prepped them for the next day. I also noticed that my lips looked far plumper after using this lip mask regularly. It's a bit steep at $20.00 for the full size, but given how long my sample size lasted, this seems well worth it.
Would I Repurchase: Yes!
---
---
Sunday Riley Good Genes All-In-One Lactic Acid Treatment –
You all know how I feel about this product by now, and I finally went through my full tube of it. This has been a miracle worker for me, and at this point I can't imagine my skincare routine without it, despite the $158.00 pricetag.
Would I Repurchase: Yes!
---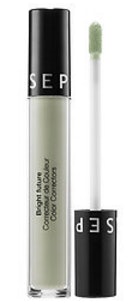 Sephora Bright Future Color Corrector in Green –
While I enjoyed the ability of this corrector to keep my redness at bay, I have used better products. The product itself is not as full coverage as I would like when it comes to correcting, and while it did help neutralize some of my redness, I had to use a lot to get the job done, and because of that, this corrector only last about 2 months for me. This is a great product if you tend to spot correct, but has someone who has to use this on my entire cheek area, I would much rather go back to my more expensive Urban Decay option.
Would I Repurchase: No!
---
CliniqueFit Workout Makeup –
I. Love. This. Product. This product lasted me over a year, even though I used it outside of working out pretty often. If you're not a huge foundation lover but want to even out your skin tone, this product is a fantastic option. It dries down matte so you don't need to set it, lasts through a great sweat session, and a little amount goes such a long way. I loved this product even for days where I didn't want to do a full face of makeup for work, but still wanted to look polished. The color range leaves a lot to be desired at only four options, but I would highly recommend it nonetheless.
Would I Repurchase: Yes!
---
Sonia Kashuk Soft Focus Satin Matte Foundation –
I am honestly and truly so sad to have run out of this foundation, because it was so incredibly amazing and no longer exists. This was perhaps one of the best drugstore foundations I have ever tried. It had a great medium to full coverage, a beautiful matte finish, and lasted all day, even when I was far oilier than I am now. I have been on the hunt for something similar ever since I found out Sonia Kashuk was switching over to just cosmetic tools, but to no avail. This will definitely go into the makeup hall of fame for me.
Would I Repurchase: Yes, But I Can't!
---
Covergirl Vitalist Healthy Elixir Foundation –
Despite the fact that even the lightest shade of this foundation is still at least three shades too dark for me, I really enjoyed the finish of this foundation. This truly made my skin look so healthy and naturally radiant, but also provided amazing coverage to help hide my imperfections. Having to use a white mixing medium was pretty tedious, but I still happily sought out this foundation to use on a regular basis.
Would I Repurchase: Yes!
---
NYX Total Control Drop Foundation –
For starters, while not perfect, I have to give NYX props for consistently putting out newer foundations that encompass more than fifty shades of buff beige. This foundation is capable of having great coverage, but does come at the price of using a lot of it. Despite that, I loved the finish of the foundation, and the undertone of my shade is truly neutral, something I desperately need in a paler foundation. I also loved using this foundation as a mix-in for other foundations, and it didn't muddy up the consistency at all, no matter the foundation.
Would I Repurchase: Yes!
---
Urban Decay All Nighter Waterproof Full Coverage Concealer –
This concealer will definitely go down as an all time favorite. I loved the foundation but had to give it up while on Accutane, and when this concealer came out I knew I had to try it. This concealer is incredibly full coverage, stays creaseless for a good eight hours, and lasts forever since a little goes such a long way. I am actually able to highlight my face with this concealer despite my paleness. Even using this as an eyeshadow primer, I still managed to keep this concealer around for six months, far longer than any other concealer I've used thus far.
Would I Repurchase: Yes!
---
Maybelline Fit Me Loose Finishing Powder –
I have never found a setting powder that makes me as happy as this one does. It is essentially Laura Mercier on steroids and with better coverage. I love that this powder has some color and coverage to it, but doesn't give any horrendous white cast or flashback. It is very finely milled and has a great texture comparable to higher end loose powders, but doesn't punish your wallet nearly as much. I'm addicted to this powder and will have to have it pried out of my cold, dead hands before I ever give it up.
Would I Repurchase: Yes!
---
Maybelline MasterFix Setting + Perfecting Loose Powder –
I have talked about this powder previously as well and also am a huge fan. Unfortunately, it did not work nearly as well as I became drier and more flaky due to Accutane. While I still made it work, it began to look more like I sucked all of the moisture out of my skin. This powder is great for keeping your skin matte and looking airbrushed, but can make you look dried out if you aren't careful.
Would I Repurchase: Yes!
---
Stila Stay All Day Waterproof Liquid Eye Liner –
This liner is definitely a great product, but by no means does it blow me out of the park. The formula is wonderfully opaque, waterproof, and easy to finesse, but I absolutely hate the tip. I generally prefer a smaller, finer brush tip liner because of my deep set eyes, as anything larger means I can easily overtake my entire eyelid with a giant black line. While I genuinely liked the formula, the felt tip made this a bit of a bust for me and was much harder to work with.
Would I Repurchase: No!
---
---
That's all I have for you guys today. Please remember to like, comment, and subscribe, it really helps me out. Also don't forget to have a wondrous Wednesday!
Stay beautiful!
Disclaimer: I will never edit my pictures in a way that misrepresents my natural weight and body type. Some Links may be affiliate links. All opinions are my own