Be not simply good – be good for something."
-Henry David Thoreau
Hello my lovelies!
Another empties post! This time around, I've actually got quite a few products for you, as May seems like it was the month for me to run out of, well, just about everything.
Additionally, we are now at 422 followers during a time of year where blog traffic is often the slowest. Thank you so much, I appreciate you more than you know.
Empties:
---
Fig + Yarrow Apothecary Palmarosa Charcoal Facial Cleanser –
This cleanser was an overall decent cleanser, and I loved that it smelled like fruitloops. If you want a cleanser that does a good job cleaning without leaving your skin feeling parched, I would definitely give this one a go. The only downside is that $20.00 price tag at Target, meaning this is on the steeper side of drugstore products.
Would I Repurchase: Yes!
---
Urban Decay B6 Vitamin-Infused Complexion Prep Priming Spray –
While I love this spray and genuinely do see differences in my skin when using it, $32.00 is a pretty outrageous price for a facial mist. I love it and want to repurchase, but staying on a stricter budget means not purchasing overly expensive items like this. Is it good? Absolutely. Can I justify the price for the future? Nope.
Would I Repurchase: No!
---
Whish Botanical Primer –
I wanted to love this primer so bad because it's actually incredibly good, but FREAKIN COCONUT WATER. It lends a good smell and good texture, but a horrible set of breakouts onto my face that I'd rather not deal with.
Would I Repurchase: No!
---
Too Faced Primed and Peachy Cooling Matte Skin Perfecting Primer –
Technically this product is not completely empty, but given my drier skin, it doesn't make any sense to keep this hanging around in my collection. If you like a matte look or have oily skin, definitely give this primer a go. It smells great, has decent staying power, and goes on nicely.
Would I Repurchase: Yes!
---
Urban Decay Naked Skin Color correcting Fluid "Pink" –
I've had this corrector for ages and I absolutely love it, just like the green one. It truly does make a difference with correcting dark circles and is very lightweight. I like it so much, I was dedicated enough to take out the stopper in order to get the last dredgings of this product.
Would I Repurchase: Yes!
---
Maybelline Brow Precise Micro Brow Pencil "Soft Brown" –
I loved the consistency and ease of use of this pencil, but it was also a little too soft. The tip constantly broke off, used up very easily, and I ended up only having this pencil for a little over two weeks. While it's only $7.00 at Target, I can't justify paying that amount for something that goes so quickly.
Would I Repurchase: No!
---
Benefit Roller Lash "Brown" –
I'm not much of a brown mascara person and don't use it very often, but this was definitely a good one. The formula was weirdly different to me than the original roller lash, and I actually prefer it that way. The brown was nice for days when I didn't want to do too much, and the brush definitely helped lengthen my lashes.
Would I Repurchase: No!
---
Sephora Full Action Extreme Effect Mascara "Blue" –
While I also didn't use this mascara very often given that it's blue, I really loved the formula and opacity of the blue when I did use it. The brush is basic as hell and nothing to get excited over, but the formula is definitely a banger.
Would I Repurchase: No!
---
Urban Decay De-Slick Makeup Setting Spray –
Another product that I can no longer use since I am drier, but this saved my ass during my oilier days. I did try the All Nighter to see if it performed the same, but I can tell you that this one helped my makeup last much longer on my oily skin than All Nighter did.
Would I Repurchase: Yes!
---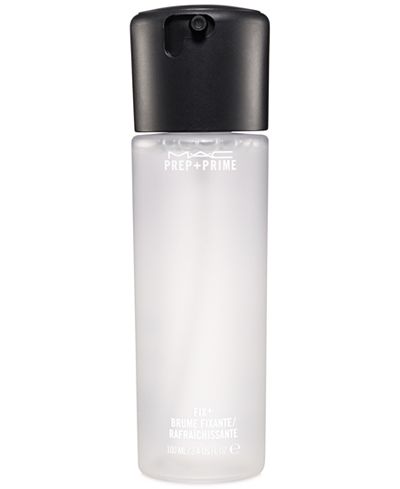 M.A.C Prep + Prime Fix + –
I really only used this for wetting my brushes and packing shimmers or glitters onto my eyes, but I still really loved this spray for that exact purpose. Plus, this is an expensive product at $26.00, so making it last is always a bonus!
Would I Repurchase: Yes!
---
That's all I have for you guys today. Please remember to like, comment, and subscribe, it really helps me out. Also don't forget to have a magical Monday!
Stay beautiful!
Disclaimer: I will never edit my pictures in a way that misrepresents my natural weight and body type. Some Links may be affiliate links. All opinions are my own